MAGNETIC frame
Magnetic frame with ultrathin just 13 mm thick design provides the easiest and fastest poster changing from all offered LED frames from our product range.
With standard added suction cup can you provide the changing of the poster with a simple pull of the front cover from the frame. This move will split the front panel and the frame is ready for changing the poster. After changin it, and inserting the front panel back is the MAGNETIC led frame ready for presenting your products.
The banner is held in the frame by grooves on each side and won´t fell out from the frame by changing the poster. The front cover is engaged to the frame by special magnets in sides of the panel and thanks to this construction solution are no screws needed. For better scratch protection has the front cover added an acryl protection sheet that will protect your banner.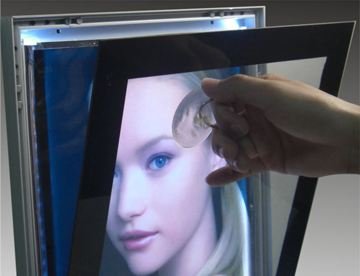 The advantage of the MAGNETIC panel is the minimum of used machanical parts what makes this pannel very durable.
The MAGNETIC panel is easy to by hanged on a wall, thanks to its hooks. We deliver in sizes from A1 to A4, but we also deliver frames on clients demand.
Coloured LED
We supply the LED frames in sizes from A4 up to A1. But we also produce frames on client requirements and wishes.
The LED pannel can be delivered in silver, champagne or black finishing colour or any client requested colour.
| | | | | | |
| --- | --- | --- | --- | --- | --- |
| Model | Size of the frame (mm) | Size of the poster | Visible size (mm) | Weight netto (kg) | Energy consumption (W) |
| MG-A1 | 655(L)*902(H)*13(D) | 594(L)*841(H) | 584(L)*831(H) | 4.79 | 12.3 |
| MG-A2 | 481(L)*655(H)*13(D) | 420(L)*594(H) | 410(L)*584(H) | 2.61 | 7.2 |
| MG-A3 | 358(L)*499(H)*13(D) | 297(L)*420(H) | 287(L)*410(H) | 1.5 | 3.6 |
| MG-A4 | 271(L)*358(H)*13(D) | 210(L)*297(H) | 200(L)*287(H) | 0.93 | 1.8 |
Contact us